The Styl'us beautiful followers, we have a big news today. YEAYEAYAY!! You are right! We are happy to share more different kind of knowledges with you. First of all, let's get some unique online international recipes from DOZO by estellicious cooking on The Styl'us blog – PASSION LIFE session! Who formed DOZO? Here you go –
A talented chef – Estee a.k.a. "Estellicious," the clumsy cook, always on the lookout for simple, yummy and healthy home cooked meals. Just a few years ago she had a slightly different passion: dining-out, takeaway, Uber Eats and pretty much anything microwavable.  Oh how times have changed!
She grew up in Hong Kong and Canada in a household with zero emphasis on cooking and as you might expect, she hadn't cooked a proper meal until well into her thirties. For years, balancing her career in Finance with two small children usually meant that meals were prepared by others or "instant." Once and for all, after moving to California in 2018, she was determined to learn how to cook proper meals with the hope of bringing more joy to the dining table. So she declared war against "instant"; researching foods, studying cooking, testing and tasting anything edible, but there was one crucial requirement: they had to be quick and easy recipes. Since then, her desire to discover, prepare and share home cooked meals has grown together with the love for her family.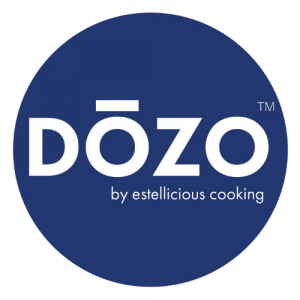 DŌZO™ is Japanese for "here you go." She launched DŌZO™ to spread the word that busy lives and great tasting, easy, home-cooked meals can exist in harmony. It's true, even for someone like herself who's grown up with no cooking experience. Today she can proudly say that she has been making home-cooked meals on a daily-basis for years and still going strong, with a daytime job, 2 little kids and a very hungry husband. The mission is to bring back homecooked joy to your dining table. Realistically! through DŌZO™ recommended recipes and resources.
DŌZO® is also here to introduce and emphasize Japanese home-cooking through her adventures and experiences of living and raising children in Japan. And, as her family comes from a multi-cultural mix of Japanese-American-Hong Kong-Canadians who love to eat and travel, they're all about variety! DOZO offer simple, tasty solutions to enjoy dishes from all around the world without the headache of gathering a bunch of exotic ingredients. She has personally tasted and time-tested each recipe on DŌZO™ so have a look around. Discover. Taste. Enjoy!
DŌZO™ 
Delicious dishes, simply estellicious!
mission
BRING HOME-COOKED JOY TO YOUR DINING TABLE. REALISTICALLY!™